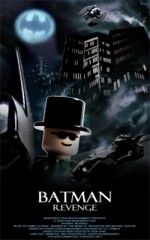 Taking place after the events of Batman: Forever, but reminiscent of the style of Batman and Batman Returns, Batman: Revenge returns viewers to Gotham City in the first production of its kind- in LEGO. Made in 2003, before the official LEGO Batman line was released, the film brought Batman and LEGO together like never before. At the close of Batman Forever, the Riddler became more insane than ever. This served as the springboard for Batman: Revenge. In the film, the question-marked villain escapes from Arkham Asylum with the purpose of revenge against the Dark Knight, a plan which places one of Batman's closest allies in jeopardy. While no written riddles are present in the film, the final scenes present what could be Nygma's greatest riddle of all.


RECEPTION
The film was credited by BatmanFanFilms.Com and TheForce.Net as the production which brought Batman fan films into the art of stop-motion animation and sparked a Batman LEGO MOC (My-Own-Creation) phenomenon since its release in 2003. It is notable for being the first Batman LEGO fan film in history. Infuze Magazine stated "It might just be the ultimate fan made film!" Within its "opening weekend" on the Internet, the download number spiked to the multiple thousands, and according to Stop-Motion Online, "made legos cool again." In 2008, Total Film Magazine ranked it #3 in their top 50 coolest viral videos. It has also been featured in BrickJournal Magazine, FanFilms Quarterly, among several other print and online publications.
"I did Batman: Revenge for the same reason any of us make films - to do our own take on a story and have a good time. The initial intent for the project was to do a fun animation I figured only a handful of people would see, but it really took off. The popularity and fanbase that resulted from the project took me by surprise, and I'm thankful to have had such a great ride."